The Bracket: Week 10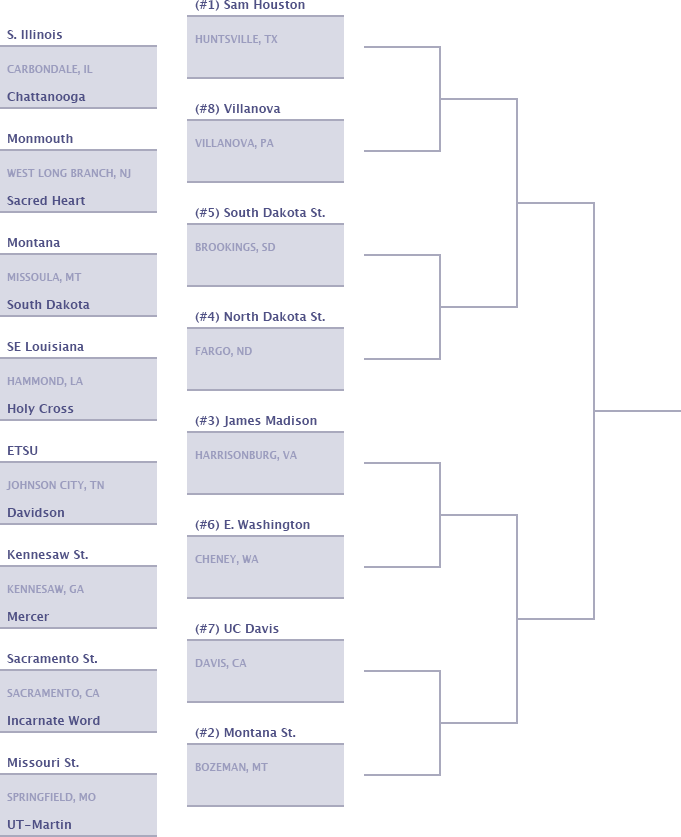 Posted Monday, November 8, 2021 10:19 PM ET
Week 10: The New Big Two?
This week makes it clearer than ever: The MVFC and Big Sky are the two FCS football powerhouse conferences. If JMU was inelgible for the FCS postseason this year, the CAA would have zero at-large bids this week.
Quick Notes
The Dakota Marker stays in Brookings, opening up some interesting seeding debates.
For some 4-loss teams like Northern Iowa, the playoffs begin Saturday.
Key games to watch this weekend: EKU at Sam Houston; South Dakota State at South Dakota; UNI at Missouri State; Chattanooga at Mercer; EWU at UC Davis
Breaking It Down
Selecting the Field
Every week's bracket is based on an "If the season ended today" mindset. The 10 automatic bids are just that: automatic. Whichever team is atop the standings of each of the 10 auto-bid conferences at the end of the week receives a bid. Expectedly, teams on top of conference standings early in the season often are not in the same spot come Selection Sunday. The other 6 bids, the at-large selections, are simply the teams I believe to be the best remaining in the country.
The Pairings
All match-ups in these brackets are my best attempts at mimicking what the committee would do with the chosen 16 teams while adhering to these rules:
Seeding the top four teams and spacing them accordingly across the bracket
Avoiding first round match-ups with teams from the same conference that have played each other in the regular season
Creating geographically-friendly match-ups using the announced approved host institutions
"This is garbage..."
Comments? I'm itching to hear your praise/raging hatred. Sound off to erik@nobowls.com and let me know what's on your mind.