The Final Bracket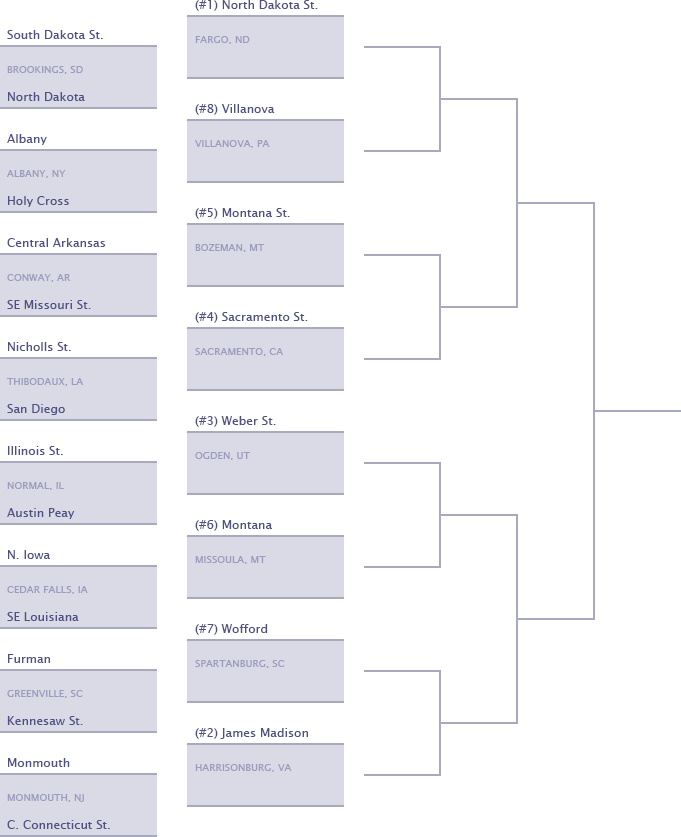 Posted November 23, 2019 8:23 PM EST
Week 13: The Final Bracket
Well, today made things interesting. With virtually half of the top teams losing Saturday, the door seems wide open for a dozen teams to be in seed consideration.
Quick Notes
Leaving South Carolina State out of the field was the toughest of the at-large decisions. Their win over Wofford is good for the resume, but coming all the way back on September 1st does not help. The computers liked South Carolina State the least of the bubble teams above them.
As for the seeds, Monmouth could easily slip into the 7 or 8 seed.
And that's a wrap on the NoBowls season! Tune into ESPNU Sunday at 12:30 PM ET to see the real deal.
Breaking It Down
Selecting the Field
Every week's bracket is based on an "If the season ended today" mindset. The 10 automatic bids are just that: automatic. Whichever team is atop the standings of each of the 10 auto-bid conferences at the end of the week receives a bid. Expectedly, teams on top of conference standings early in the season often are not in the same spot come Selection Sunday. The other 14 bids, the at-large selections, are simply the teams I believe to be the best remaining in the country. Keep in mind again this is not a prediction of what I think the brackets will look like in late November, but rather a collection of deserving teams week to week.
The Pairings
All first and second round mat